Product number: 802
Model 802 is mounted on a steel frame made up of stainless steel panels and comprises a hermetic type compressor, air cooled condenser and a forced air evaporator inside an insulated cabinet.

The layout of the system components is exactly the same as fitted to a full size chill room and the unit is designed as an introduction to "real" refrigeration systems. The training objectives of the 802 unit link directly to the Basic Installation Training Package 803 for a comprehensive range of practical skills training. The instructor can introduce "faults" such as removing part of the system charge, setting high or low pressure switches to unusual levels or overcharging the unit. This assumes suitable charging and recovery equipment is available locally.

A comparison between the student built 803 and 802 clearly establishes whether installation skill and competences are sufficiently developed or if further training and practice are required. A standard Student Tool Kit, Test and Service Equipment Package and Maintenance and Student Practice Package are available as optional items.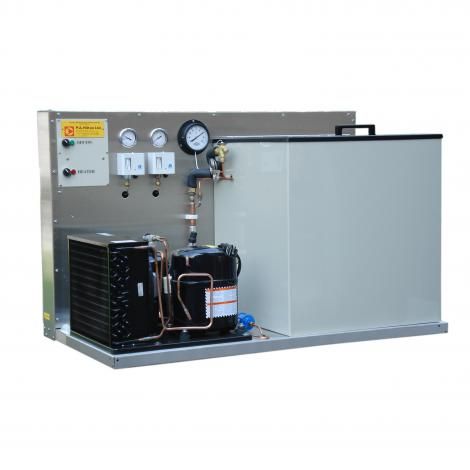 Specifications and resources
Air cooled condensing unit.
Suction and Discharge Service Valves.
Gauge Manifold Connection points.
Built in Motor Protector.
Forced air, blow through type evaporator, with 15-watt fan motor.
Open-able, Insulated hood with on/off heat load.
Internally equalised Thermostatic Expansion Valve.
Liquid Line Filter Drier.
Heat Exchanger.
High Pressure Switch.
Low Pressure Switch.
High Pressure gauge.
Compound gauge.