Product number: HST12
Six different shaped curved cantilever specimens are attached to a horizontal or vertical fixing bracket at their base. A special hanger is suspended from small pins on the free end of the specimen to allow loading to be applied to the specimen using the calibrated weights set provided. Each specimen can be quickly and easily interchanged.

The special hanger applies a vertical load and presents horizontal and vertical faces for two displacement dial gauges on moveable stands to measure the vertical and horizontal deflections simultaneously.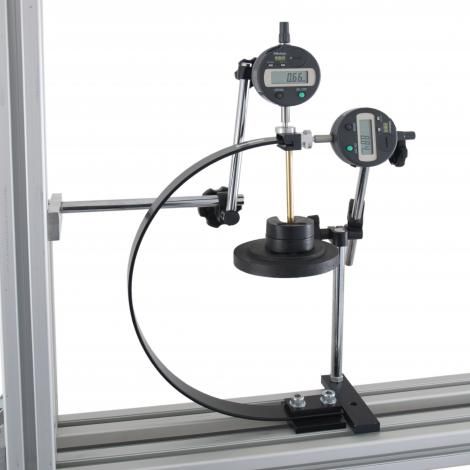 Specifications and resources
Specimen section approximately 25mm x 3mm, coated steel
Semi-circular: R148.5mm
Semi-circular Bracket: 75 (L) and R73.5mm
Double Davit: 205(L) and R73.5mm
Quadrant: R148.5mm
Single Davit Curved: 205(L) and R73.5mm
Single Davit Straight: 205(L) and 75(L)mm
Digital Dial Gauge: 12.7mm travel; 0.01mm resolution
Weights set: 5 x 2N, 3 x 5N, 1 x 10N