Product number: HSM1c
The bench mounted apparatus has an aluminium profiled base on levelling feet. Three reaction piers can be moved along the length of the base to create differing test spans for the beam. For each reaction pier the applied force is displayed digitally in engineering units of Newton's (N). Each reaction pier has a tare function and a clamping mechanism for the test beam which allows simply supported end conditions with no vertical movement.

A set of test beams are supplied together with two analogue dial gauges for measuring beam deflections and slopes. The dial gauges are mounted on movable stands for accurate positioning along the beam length. A set of calibrated weights and hangers are supplied along with the necessary tools to adjust the equipment.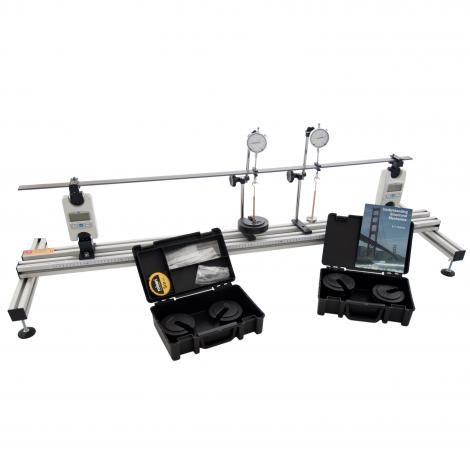 Specifications and resources
Base frame approximately 1400mm in length
Three adjustable reaction piers
Newton (N) display with 0.1N resolution
Battery operated reaction pier, with 'auto OFF' function
Hangers and beam clamps x 4 off
Analogue dial gauges to measure deflections; 25mm travel; 0.01mm resolution x 2 off
Steel test beam: 1200(L) x 25(W) x 5(H) mm
Aluminium test beam: 1200(L) x 25.4(W) x 3.2(H) mm
Aluminium test beam: 1200(L) x 25.4(W) x 4.76(H) mm
Aluminium test beam: 1200(L) x 25.4(W) x 6.35(H) mm